How to delete an agenda
Past agendas are used to create the role history and if you delete old agendas, the role history is affected. Therefore, deleting agendas is not recommended.
Any agendas older than 45 days disappear automatically from the "View Another Agenda" drop-down list (unless you click on the "Show All Agendas" button). Deletion isn't needed to keep the list to a manageable length.
However, occasionally you might be experimenting with agendas for bug-fixing purposes or for testing a new layout. Then you may wish to clean up afterwards so that there are no stray agendas in the system.
To remove the unwanted agendas
While logged in as Admin
Click on the entry in the calendar. This will take you to the agenda in question.
Click on the trash can icon.
Type the word DELETE in the box in the popup, then click on the "Delete" button.
To restore an agenda:
You can restore an agenda if it's been deleted in the last 30 days (but not before 2018-04-15).
Click on the trash can icon.
Click on the Undelete Agenda tab.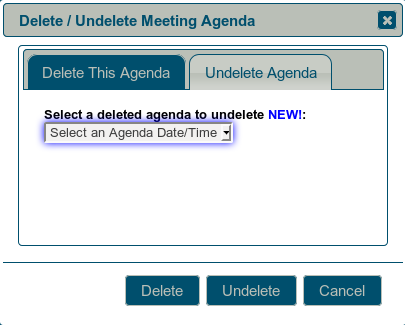 Choose the agenda from the pull-down list.
Click on the Undelete button.