What is a website alias?
Website Alias - This is what you will use if you are NOT using a custom domain. An alias is what comes before the toastmastersclubs.org / toastmastersdistricts.org domain — it is what replaces your club number in the URL. Example:
https://12345.toastmastersclubs.org
would become
https://myclub.toastmastersclubs.org
...where "myclub" will be the alias. As you can see, the alias is just a simple name. It does NOT include "https://" and cannot be "www" (the "www" is already implied).
Enter the name in the "Website Alias" field (marked with an arrow below).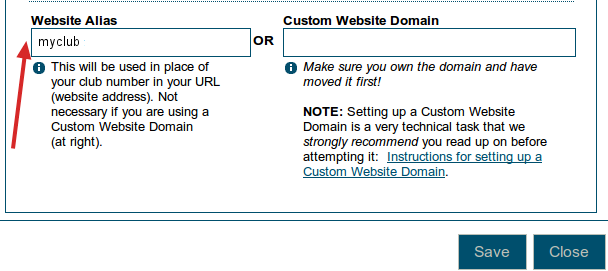 Make a point of keeping your alias as brief as possible. For example, "myclub" is more effective than "myclubtoastmasters". Remember that, whatever you put in the alias field, "toastmastersclubs.org" gets tacked onto the end. A very long URL is not very friendly to anyone who has to type it in.
Once you establish an alias, your site will still be accessible by the club number in the URL as well, but each URL will require the member/admin to login again, since they are recognized as two separate URLs by the browser.  The browser maintains your login status separately for each URL (separate cookies for each).
You can change your alias at any time. As more clubs register for FreeToastHost websites, fewer aliases will be available. It is first come, first served. When you change your alias, the old one goes back in the pool of available aliases.
If you change your alias, you do not need to worry about changing e-mail addresses. Your e-mail addresses for the club will always use your club number to avoid this problem of invalid/changing e-mail addresses.
Aliases must be in the format of a valid URL subdomain. We accept only letters and numbers.  The following are the rules for creating a valid alias:
A website alias must be unique.  You cannot use an alias that another club is already using.
A website alias must be at least 3 letters/numbers long.
A website alias can only contain letters and numbers (no punctuation, dashes, or underscores).
Despite #3, a website alias cannot be entirely numbers, or a letter "d" followed by entirely numbers. 


This is not allowed because the system would get confused and think those are club or district numbers instead of website aliases.

A website alias cannot be any of the following:  www, support, _domainkey, _dmarc, or an IP address.