Alias and Domain names: what's the difference?
When your club first applies for a website, it is issued with a URL (or web address) of #######.toastmastersclubs.org. ####### stands for your club number, so if your club number is 1234567, then the URL would be 1234567.toastmastersclubs.org
If you are happy with that URL, you don't have to do anything else.
DO NOT add the leading zeros to your club number when you use this URL. Using the same example, 01234567.toastmastersclubs.org would not work.

Most clubs, though, want something a bit more distinctive. There are two ways of doing this, aliases and custom domain names.
An Alias is just a name that replaces your club number. So, if your club name is Podunk Toastmasters, you might like to use an Alias of "podunk" (or maybe "podunktm" if another club has taken the first one).
To set an Alias, launch your Admin Console and scroll to the bottom of the window. Put your Alias into the box marked "Website Alias". (Only the alias – not the full website name!) Make sure you leave the Custom Website Domain box empty. Save and close. That's all!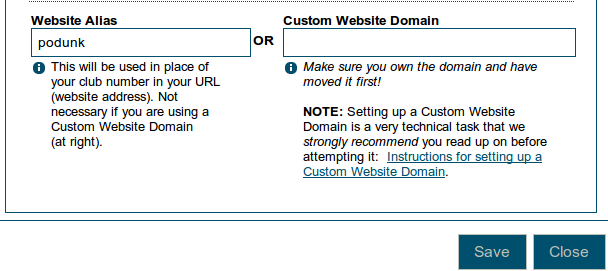 Your new Alias is available immediately.
Your old URL with the club number in it is still available, so if something goes wrong – let's say you misspelled your Alias – you can still use it to get to your site.
You can also change your Alias at any time, for example, if your club changes its name.

A Custom Domain Name is one that doesn't have "toastmastersclubs.org" in it. It will be something along the lines of "podunktalkers.org" It has to be purchased from a domain name registrar and renewed every year.
If you're not sure whether your club has one or not, talk to your treasurer, who will know if a payment has been made.
Setting up a Custom Domain Name is a bit more complicated, and it's different for each registrar (the place the name was purchased from). See http://support.toastmastersclubs.org/doc/item/dns-settings-overview for information.
When you have your new domain name set up correctly with the registrar, you then have to enter it in the Custom Website Domain box in the Admin Console. Leave the Alias box empty. Save and close.
Even when you've done everything correctly, it can take up to 72 hours for the new name to "propagate" – that is, to be recognised right across the internet.
Reasons for having a Custom Domain Name:
It lets you have a more distinctive URL for your club.
You do not need to remember your club number to use any of the email lists.
(e.g.

This email address is being protected from spambots. You need JavaScript enabled to view it.

vs

This email address is being protected from spambots. You need JavaScript enabled to view it.

)
You can take it with you if you decide to not to stay with FTH.
In the end, though, the choice is up to you and your club. And whichever one you choose, good, interesting and up-to-date content is always the most important thing.