Global Settings
These define default behaviours for display, emailing and printing of agendas.
Include member photos
Names are displayed if this item isn't checked.
Include role descriptions in the printed meeting agenda
Some clubs like to turn this off, especially on longer agendas, so as to save space.
Use 24 hour time format (ex. 13:00)
Set this according to your / the club's preference.
Include meeting notes on emailed agendas
If checked, meeting notes will appear on the emailed copy of the agenda.
Include meeting notes on printed agendas
If checked, meeting notes will be printed at the bottom of the (last) agenda page.
Note: Meeting notes will still be visible on the website regardless of how these two options are set.
Include Role times on printed agendas
If checked, times will appear down the left-hand side of the printed agenda. Otherwise, only the role names (and descriptions, if checked) will be printed.
Enable Role Confirmations
Checking this box allows Confirm links to be set up in the agenda.
Set the confirmation expiry time to something that makes sense for your club. Some like to have a role re-confirmed if it was originally confirmed a long time ahead of the meeting. If you don't want them to expire at all, set the number of days to something like 999.
Notification when a member takes, drops or confirms a role
If a member takes a role, confirms one or drops one, other members or officers can automatically be notified. This can help avoid problems caused by a member making changes of this kind without telling anyone.
You may choose one or more of
President
VP Ed
Club Secretary
Toastmaster of meeting
Table Topics masters
Member's mentor(s)
General evaluator
Click on the relevant box(es) in the multi-choice menu.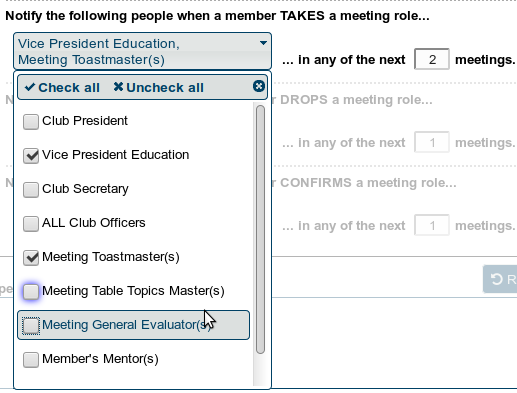 Any of the above settings can be changed at any time.
Introduction Template
You can enter some text here to act as a guide to members for creating a good introduction. It will be inserted into the Introduction box as a placeholder text. Members can then edit it as they wish.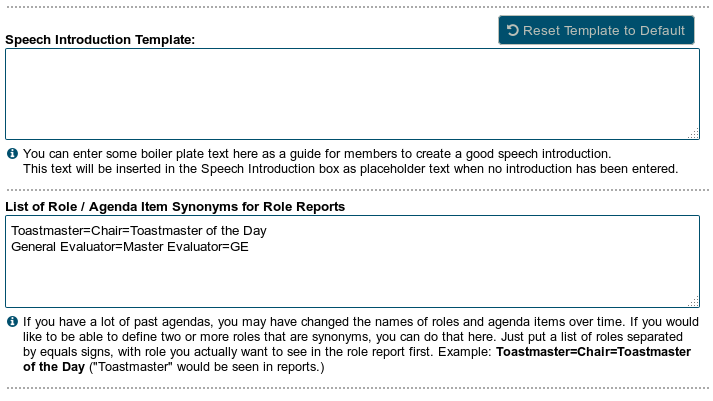 Role / Agenda item synonyms
If you have a lot of agendas going back a few years, the names of some of the roles may have changed over time. E.g. what was originally called "Toastmaster of the Day" may now just be called "Toastmaster". This will affect the accuracy of role reports.
In this box you can define the role names that should be considered to be equivalents. The first item in the list will be the one that appears in the role reports.
An example: Toastmaster=Toastmaster of the Day=Chair
All of those roles will be consolidated in the report, under the title of "Toastmaster"
Default Meeting Description
The default meeting description (or agenda header) is automatically added to a new agenda every time one is created.
This is a word-processor-like window for editing content, as use, for example, when creating and editing custom pages. For further information, see Adding and editing content.