To create a map for your directions page
We recommend placing a map to your meeting location on your Meeting Information/Directions page.  Doing this makes it very convenient for first time meeting guests to find your meeting location and provides a way for them to create directions from their home or office.  
If you are a new website admin or you just don't want to deal with the technical details of generating the iframe code for embedding a map in your Meeting Information/Directions page, then the simplest thing to do is to just enter the address of your meeting location in the Google Maps box in the Meeting Information/Directions tab of the Admin Console, then click the Save button.  FreeToastHost 2 will take it from there and create a basic map for you.  If you do this, keep in mind that the address must be understandable to Google Maps, since we essentially just send it directly to Google Maps to create the map.
However, if you prefer finer control over your embedded map, then we recommend you check out one of the many available map providers on the internet. Although we designed the Google Maps feature with Google Maps in mind, you can use any map provider that can produce iframe embedding code.  ("iframe" is just fancy jargon for a method to place a window to another website in your website.)  Here are some of the various map providers that can provide iframe code--click on any of the names below to visit their website:
Steps to embed the map in your Meeting Information/Directions Page:
Go to the map provider of your choice.
Choose the view, embedded map size and zoom level that you want. If there are choices, choose embeddable html.
Add a marker, following the instructions. With Google Maps, you need to use a separate Google application called Google MapMaker for this.
Use the above italicized suggestions to find the appropriate Share or Link button and locate the iframe code.  You should see some embed code there beginning with <iframe>--that is what you are looking for.



Note:

 For Bing Maps, as of this writing, the embed code begins with <div id="mapviewer"> and ends with </div>--you need to remove those codes if you intend to use Bing Maps.  FreeToastHost 2 only recognizes text beginning with <iframe> as valid iframe code--otherwise, it will think you are trying to enter an address.
 
Copy that iframe code to the clipboard and paste it in to the Google Maps box in the Meeting Information/Directions tab of the Admin Console. Remember, although it says "Google Maps", it can also be used for any of the above.  You can see what your map will look like if you click the "See the Map!" button--a window will pop-up showing your map.
Save, then check your page by clicking on the "Meeting information / directions" link in the main menu, and make adjustments if necessary.
For more details about using iframe code, see Adding and editing page content.
Note: If you enter an address in the "See the Map!" box, as shown below, it will bring up a Google Map only when you click on the button. You need to use iframe code to see what other maps will look like.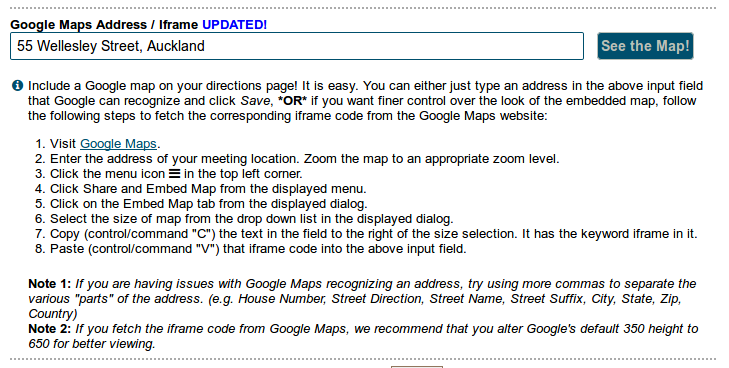 As an example of what the <iframe> code looks like, here is what you would see as of this writing using Google Maps: